Post by buzzbomb on Jun 22, 2019 21:26:46 GMT
But we're not done yet. There is another phenomenon that has to be taken into account--Fortean. Fortean phenomena are named after the American Charles Fort who scoured newspapers from all over the world around taking note of weird occurrences. Fort never claimed the reports were in any wise accurate or reliable only that they are there for whatever they are worth and that there are a huge number of them. British UFO author, Harold T. Wilkins, used to regularly include Fortean phenomena in his books. In fact, there was where I first learned about Fort and his books.
Fortean phenomena include all manner of weird things such as falls of fish (and, in one case, "huge ants") from the sky, falls of rain from a cloudless sky, large boulders found at the tops of trees, living from frogs hopping out of stones that someone split open, an area in England that suddenly found itself buried in cockleshells, etc. etc. I was quite shocked one day to read about a very Fortean occurrence near my own neighborhood a few streets away: I don't have the story anymore which I had saved but it occurred one July night around 2002 just a couple of blocks from me. People came out of their houses at about 10:20 pm only to discover that the street was filled from curb-to-curb with pills! They were generic tranquilizers and muscle relaxers of various types. Most of the pills were white but some were yellow, orange or red. The street was covered uniformly and not in patches and the pills were more than ankle deep. They covered the street for about a block.
According to the report, there were so many pills in the street that "it looked like it had snowed." Strangely, no one saw or heard anything. The last witness to be outside before the pills were discovered was about 20 minutes earlier--10 pm--and he did not notice anything amiss.
The police had to bring a dumpster and small loader vehicles while people came out with snow shovels and deposited all the pills in the dumpster. The report contained a photo of the pills as one man had saved a handful of them for study and curiosity. Police did not know what type of vehicle had transported the pills, which numbered into the tens of thousands, nor how it had managed to dump its cargo in the unusual manner it did nor why nobody heard or saw anything during that 20-minute window. No pill manufacturer or pharmaceutical company has reported any losses or thefts of pills.
As of this writing, no explanation has been given. It bore a great resemblance to the cocklshell story I mentioned except in that case, the shells were also found on rooftops and filling people's gutters.
I found the following account in a 1955 UFO book from England called "Flying Saucers Uncensored" although the account is hardly anything that could be termed UFO-like. The author, Harold T. Wilkins, got the story from the works of Charles Fort:
9 December 1873, 4:30 am, T. Harker, the night superintendent at the Bristol & Exeter Railway Temple Meads station, was huddled in his office poking up the coals to warm himself and his two sleeping assistants, against the chill winter north wind. The bleak station was dark which the gas lanterns did little to dispel due to the long row iron pillars that did little more than create eerie, flickering shadows across the tracks. Two trains—one from Derby and one from Paddington, London—were not due for an hour. All was quiet and nothing stirred except for the occasional howling of the wind. "The sort of early morning not fit for a dog to be abroad."
As Harker sat poking at the coals, he suddenly leapt from his chair at what sounded like the report of a firearm accompanied by screams of "Murder! Murder!" Harker peered out the window of his office and saw a young woman still in her nightdress running barefoot down the platform. Behind her ran a man also in nightdress holding a smoking pistol in his hand. Both kept looking over their shoulders towards the Victoria Hotel from which they had just exited. The woman beat on Harker's door in an extremely agitated state. The man came up behind her and also began beating on the door. Harker gave them admittance and then closed the door against the cold. He demanded to know what was going on. "They will murder us!" yelled the woman. "They have followed us to the station. I demand you search it at once!"
Harker rousted his two sleeping assistants and bade the agitated couple to remain in his office while he and the two porters made a search of the premises. They found nothing and returned to the office. Harker tried to talk to the man but found him in such a state of agitation that he was utterly unintelligible so he turned to the woman who, despite her state of hysteria, could at least be made sense of but her story was so chaotic that Harker supposed them to be in drink or under some other such delusion and sent one of the lads to fetch a policeman who arrived and duly transported the excited couple to the police station where he charged them with disorderly conduct and the unlawful discharging of firearms. They were to appear before the magistrates later in the morning
The 11 December issue of the
London Times
takes up the story:
"Thomas B. Cumpston and his wife, Mrs. Annie Martha Cumpston, of Virginia Road, Leeds, Yorkshire, were brought up before the magistrates for being disorderly at the Victoria Hotel, Bristol, and letting off firearms. It is said by the landlady of the hotel, Mrs. Tongue, that the defendants took an apartment at the hotel, on Monday evening. They retired to rest about 12 o'clock. About 4 A.M., she was awakened by loud screams and shouts in the bedroom, succeeded by reports of firearms. She went down and found that both had leapt from their bedroom to the yard, twelve feet below. They then both made their way to the railway station opposite.
"Mr. T. Harker, night superintendent of the Bristol and Exeter Railway, said the Cumpstons rushed into his office partly dressed and crying out, 'Murder!' They were in a terrible state of excitement. They told me they had escaped from a den of rogues and thieves and that they had to defend themselves. They were under the impression that someone was following them, and made me search the waiting-room to see that no one was there. Upon my sending for a policeman, Mr. Cumpston was searched and a revolver and three knives were found on him.
"Asked by the magistrates what they had to say, Cumpston, who has an impediment in his speech, said that he and his wife…came to Bristol and engaged a room at the Victoria Hotel, being near the railway station. They were alarmed at 4 A.M. by terrible noises they could not explain, and were badly frightened. The bed seemed to open and he heard all sorts of strange things. The floor, too, opened and they heard voices. They were so terrified that they opened their bedroom window and leapt out.
"Mrs. Cumpston gave her version of the affair. She said: 'We heard terrible noises at 4 A.M. The floor seemed to be giving way. It certainly opened. My husband fell down some distance and I tried to get him up. What we said was repeated every time we spoke!' Being very much frightened, she asked her husband to fire off his pistol, which he did, into the ceiling. The noises continuing, they got out of the window, but she did not know how. When they got outside, she asked her husband to fire off his pistol again. Then they ran up to the railway station."
Eventually, one Mr. Butt came from Gloucester and told the magistrates that the Cumpstons occupied respectable positions at Leeds and that he was willing to take charge of them should the court be good enough to release them into his custody which was ultimately done with no further charges filed. The court chalked up the incident to the husband's hallucination or delusion.
The
Bristol Post
added more details:
"As Cumpston was about to be dragged into the opening in the floor, his wife says she dragged him back. In Court, Cumpston's excitement was still so intense that he could not clearly express himself. Mrs. Cumpston said that, earlier in the evening, they had been alarmed by loud sounds, but the landlady reassured them. At three or four in the morning, the sounds were heard again. They jumped out on the floor which was giving way under them. Voices, repeating their exclamations were heard, or their own voices echoed strangely. Then, according to what she saw, or thought she saw, the floor opened wide. Her husband was falling into the opening, and she dragged him back. The landlady was called and she testified the sounds had been heard, but she was unable to describe them clearly. Policemen said they went to the Victoria Hotel, examined the bedroom, but found nothing to justify the extraordinary behavior of the Cumpstons. They suggested it was a case of collective hallucination."
An interesting story, to be sure. I first read it when I was about 15. I recently decided to see if it was verifiable. Not the experience itself was which was obviously subjective but the incident. So I googled up Annie Martha Cumpston. I found an entry for a New Jersey clergyman named William Hudson Cumpston which reads:
William Hudson Cumpston was the Son of Thomas Bowser Cumpston by his wife Annie Martha Carter…
He was born April 16, 1878 in Leeds, West Yorkshire. He died in New Jersey in 1960.
I also found a document concerning the will of William Hudson drawn up February 18, 1879, in which part of the estate went to nephew Joseph Barton Carter, grand-nephew Francis Edward Carter and grand-niece Annie Martha Cumpston. This has to be the same person as she is placed among the Carters and her maiden name was given as Carter in other documents as well as her son bearing the name William Hudson Cumpston. I found a Church of England marriage listing in West Yorkshire covering the years 1813-1935 for Thomas Bowser Cumpston and Annie Martha Carter. I also learned that Cumpston's father was also named Thomas Bowser Cumpston and that he died in 1873, the year of the incident. He had been a businessman engaged in the wool industry of Leeds. Thomas Jr. died in 1893 at age 46. So he was 26 at the time of the incident. That lines up. His son was born five years later so that lines up. Annie Martha is listed as dying December 31, 1930. We can surmise she was perhaps 3-5 years younger than her husband and so probably died in her late 70s or early 80s so that lines up too.
So, this couple mentioned in this incident did exist to my satisfaction. The Temple Meads station for the Bristol & Exeter Railway exists as does the Victoria Hotel which I have verified is directly across the entrance to the station. One can see the windows they would have leapt from which does look to be about a 12-foot drop so that too checks out.
So everything about this story lines up. So I can only wonder about the story itself and what really happened. Fortean phenomena seem quite frankly to be designed. Something deliberately meant to boggle our minds, to frighten us, to confuse us and, ultimately, to control us. Something can screw with us any way it wants to.
So, again, what are the chances that earth is visited by UFOs, that a mysterious agency snatches people from our forests AND sometimes weird, inexplicable things likes pills and cockleshells suddenly appear out of nowhere or that people in a hotel are attacked by some unseen force that opens floors but leaves no trace of its visit behind when later investigated? My guess is that it--along with the cryptids and cattle mutilations--are all the same phenomenon. There may be no Bigfoot skeletons because Bigfoot does not exist not necessarily because people imagine him but because it's only a temporary form this phantom assumes. Our legends around the world are rife with shapeshifters--perhaps they have a basis in reality. Isn't a UFO that radically alters its appearance before the very eyes of astonished witnesses simply a shapeshifter?
I don't merely suggest that UFOs are some kind of vehicle of transport that drop Bigfoots into the unsuspecting countryside but that these are all manifestations of the same entity or agency. Bigfoot IS a UFO which IS an alien or a cryptid and so forth. It's one shapeshifting entity with no independent existence.
It's one multi-faceted phenomenon
. If that is the case, what is it doing?? Is it amusing itself at our expense or does it have a purpose in mind?
One possibility we can safely eliminate is the New Agey idea that UFO aliens are here to help us and are trying to assist humankind. Whatever it is, it has no such purpose. If anything, it appears to be a predator of some kind. It's like a fisherman using different types of lures to catch humans. I am a fanatical fly-fisherman because it's tremendous fun to use logic trying to catch a fish. I don't even keep them. I let them go unless they are very large in which case I may take them home for dinner. But, for me, the joy is in the catching not the eating: during different times of the year, there are different hatchings of different types of insects--mayflies, caddis flies and the like. So, to hook the fish, the fisherman notes which bugs are popular and what stage they are in. During some time of the year, they are hatchlings that float to the surface and the fish won't eat anything else so you use a hatchling lure and hope a fish will be fooled and grab it. Other times of the year, the fish will only eat spinners which after a mayfly mates, it extends its wings out in a certain way and falls to the water dead in a kind of spinning fashion. The fish watch it carefully as it hits the water and will not bite it if they notice anything amiss. Fish are amazingly smart. So you use a spinner lure and try to fool the fish into biting. When I catch the fish using logic and my ability to cast the proper lure in just the right way, there is this euphoric feeling of "GOT HIM!" I fooled him, I fooled nature! Once I reel him in, as I said, I might photograph him and then turn him loose. It strikes me that in the Missing 411 disappearances, something catches humans the same way--it figures what type of lure to use on a certain human and then sees if it can hook him or her. If the prey turns out not to be a "keeper" then it throws it back. So sometimes we notice the vanished person has come back or the person is found dead. To use the fishing analogy, that happens with net-fishing--they haul in the net and toss back those fish that aren't the right type or are dead.
One weird case Paulides catalogued concerned a man who had vanished and a woman whom I believe was a local reporter went to cover the story. She went out to a certain open area and could clearly hear a male voice calling for help. She looked around but couldn't see anyone. She tried to follow the voice but could never seem to get close to it. She went to a search party and told them what had happened and they told her that they had been to that same area and heard the same thing--a man's voice pleading for help. They fanned out and searched but nobody could seem to get any closer to the voice and they were forced to give up. One pictures a man caught in some kind of trap but who could still see people and calling to them but they, for whatever reason, could not see him. Weird.
In another case, a man told his wife he was going for a stroll on their land which bordered the woods. He was an older man and used a walking stick. He took a rifle with him and slung it over his shoulder. After some time, the wife realized her husband should have returned. She called for help and searchers went out and looked for him. They found his walking stick on the ground near the woods. No trace of him or his rifle was ever found though. One can imagine what happened. He got to the woods, saw something that alarmed him and tried to ready his rifle. Since this would require two hands, he had to drop his stick to raise the rifle and shoot but he never got the chance. Something got him but what? The walking stick was found right at an area where the ground turned mossy and muddy but there were no footprints of any kind. But it's hard to shake the idea that the man encountered something there and it scared him and he had every intention to shoot it. What did he see? If it had been, say, a bear, it would have left prints and there would be signs of disturbance if the bear had grabbed him--blood, drag marks and like. There was nothing to be found there but his walking stick. Like a fish plucked out of the water.
Humans don't appear to be its only food, if indeed we are food, but the cattle mutilation phenomenon would indicate it eats animals too. While some think the cattle are eaten by blowflies with near-surgical precision and that it is really explainable, I disagree. What kills the cattle in the first place? They don't just die suddenly. Do blowflies cut holes in the skulls and extract an eyeball through the hole rather than the eye socket? If animal predation is the culprit, why no teeth or claw marks on the carcass, why no footprints around the animal. Actually, animals AVOID these cattle. They won't go near them. Besides, nothing of the animal is eaten but the blood is removed. What does that--a giant mosquito? Even if there were giant mosquitos, organs are also removed but they are never found nearby--something removes those organs and takes them. What does that? The answer that comes to mind is a vampire. I don't mean to suggest that the Hollywood-type vampire is real but maybe the idea of the vampire used in Hollywood is rooted in this phenomenon. It's very eerie--a vampirical agency kills and drains these cattle and no other creature will dare touch the carcass marked with the mark of the vampire. Many attribute cattle mutilation to aliens and UFOs often disguised as mysterious helicopters.
Here is what's weird about this whole cattle mutilation business (aside from the obvious fact that it's weird from the outset): it was foretold some seven decades earlier in the 1897 story of a Kansas farmer named Alexander Hamilton who wrote down his account where he stated a large cylindrical object hovered over his farm one night shining a light down over his barnyard. The occupants of the craft (whom Hamilton claimed he could see and thought were hideous) seemed to focus their attention on the cattle which were properly spooked. Hamilton claimed that he and his farmhands watched as a red noose dangled from the craft and lowered itself around the neck of a bawling heifer which, in all the excitement, was caught fast in a fence. Hamilton claimed all attempts to cut his cable were futile. Soon the unfortunate animal was raised from the ground dangling by the neck and the craft moved off with the poor animal in tow. Several days later, the heifer was found in a field hideously butchered--in other words, mutilated. This story was accepted by a great number of UFO-writers who included his verbatim account in their books. The only problem was that the story was a hoax. Hamilton later admitted in writing that he had made the story up. It seemed that he and some other farmers in the area had formed a club where each was engaged to see who could tell the tallest tale and get people to believe it. I assume Hamilton won.
Yet, apparently real cattle mutilation actually started to occur in the 1970s and was rampant during the Great MidWest UFO Flap--one of the strangest periods of history that I have ever read about and which is documented in the book "Clear Intent" by Lawrence Fawcett and Barry Greenwood. If you haven't read it, you need to:
If Hamilton's fictional account was the spark of the cattle mutilation phenomenon, then there is clear intent alright! Someone or something deliberately used Hamilton's fake account and decided to make it real.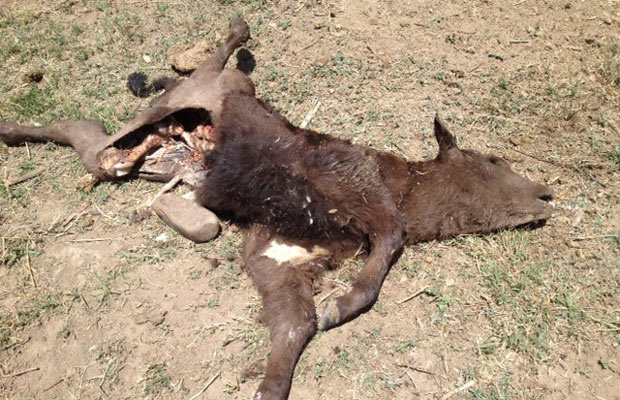 That demonstrates cunning and intelligence. This speculation is further bolstered by the 1967 book I mentioned earlier, "Picnic at Hanging Rock" by Joan Lindsay that was made into a movie in 1975. It predicts Missing 411 to an utterly stunning degree that could NOT be simply coincidence. But Lindsay did not base her story on actual cases, she based it on a series of dreams she had. So we not only have to wonder what was the source of those dreams but whether someone or something used that book or the movie as the source of instigating the series of disappearances and deaths that became the basis of Missing 411. Again, it demonstrates that whatever it is, it possesses cunning and intelligence. It seems to have deliberately picked fiction as the source so that there could be no doubt of its intelligence. What possesses that kind of cunning and intelligence? The only answer I have is humans. Whatever it is, it seems to be human or it can masquerade as human. It would mean that it walks among us unnoticed and interacts with us, lives among us, and we are all the while unable to detect the cheat.
About 20 years ago, I read an utterly mind-blowing book written 1999 by Michael Tucker called "An Age for Lucifer" which reminds me irrepressibly of this phenomenon and which may provide a clue as to who or what is behind it. I'll quote a synopsis of the work:
Holmes Publishing Group, 1999. A FINE NEW COPY. This work explores a fascinating and dark thesis: there is a birth of a new human type gathering momentum and its goal is the ultimate in human potential, godhood. But will it be that bright and shining New Age so eagerly awaited? Will it follow the hopes of its prophets? Or does this new creature contain the seeds of predation, possession, devouring and violence? The Luciferan (please note that Mr. Tucker's use of the term "Luciferan" is tied to no group, form of magick, or personage, but is symbolic of a general philosophy) is a seeker of powaqqatsi - Po-waq-qa-tsi is derived from the Hopi words powaq, sorcerer and qatsi, life. Luciferism exposes the use of predatory techniques to achieve personal godhood, and the purpose of this book is to render this opaque statement clear, and to translate Luciferism into contemporary meaning as horizontal evil. Mr. Tucker skillfully weaves a diversity of philosophies and psychologies into a picture that is both a frightening warning, and a melancholy sigh.

www.jdholmes.com/shop/jdholmes/408-2.html
I couldn't have put it better. What if we are victims of sorcerers from an ancient time that accumulated a great deal of power and have evolved into something that still has a human root but which sees humans as food? That's how evolution works. We all evolved from a fish creature hundreds of millions of years ago but we catch and eat them. A good novel to read that might give you an idea of how they exist among us is Peter Straub's excellent "Ghost Story" (DO NOT see the movie, it sucks and does NOT follow the book--read the book!--it will shock you). If we are food to some super-predator that we have no natural defense against then we can start by learning what we are up against.